A new pilot program at DaySpring Episcopal Center involves Mental Health First Aid, a training certification of the National Council for Behavioral Health. The day-long seminar and
certification program is intended to mimic classic first aid training, helping non-mental health practitioners better know how to deal with every manner of mental health issue.
"You've got to listen, and make the person feel heard," said April Lott, president, Directions for Living, who co-led the training. Lott said that this past year included many pandemics, including drug and alcohol abuse, all stemming from COVID-19. Lott led the training on Nov. 19, 2020, along with Stoney Dvornik, director of the Tampa Bay area foundation Love IV Lawrence, a charity formed in honor of Lawrence Hundley Dimmitt IV, who died in 2017. Love IV Lawrence, which co-sponsored the training, aims to change the conversation around mental health by de-stigmatizing issues around depression and suicide. It included practical tips, as well as discussions on different ways imagined scenarios might be perceived by different types of people.
The training covers issues such as addiction, panic, psychosis, self-harm, suicide, depression and other behavioral challenges. The idea is that everyday people in contact with family, work, and  organizations can better identify these issues early, before they become problems. It is part of the Community Foundation of Tampa Bay's regional effort to train 5,000 key personnel in nonprofits, faith communities and other community settings to identify, understand and respond to signs of addictions and mental illness within the next three years.
Attending for the Crisis Center of Tampa Bay was Clara Reynolds, the center's president and CEO. Reynolds is also the chair of the Central Florida Behavioral Health Network; she attended to update her own training. One of her agency's key offerings is the Hillsborough County 211 mental health emergency telephone service, which was explained at the training. The 2-1-1 functions much the same as 9-1-1, except that it is for mental health emergencies. Holding the event at DaySpring was not just practical; it was for many in the group a first time out at a public event since the beginning of the pandemic. For a Zoomed-out audience, being able to safely meet in a serene woodland setting, apart from day-to-day stressors is key for engaging this sensitive topic. Part of the days' activities included role-playing some of the difficult questions of how to deal with a person in crisis.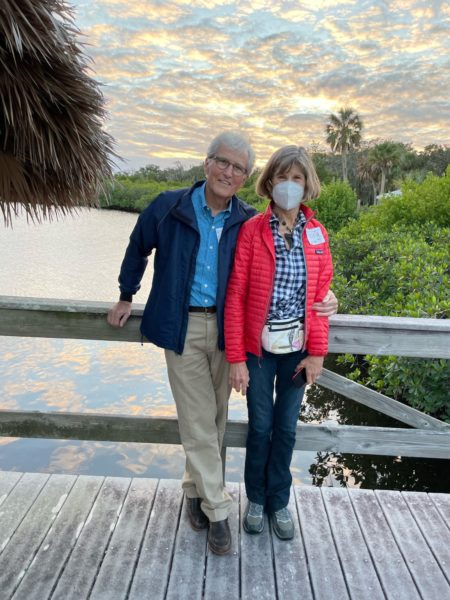 "Our goal is for DaySpring to host a regular schedule of open Mental Health First Aid classes available to the public, as well as hosting groups of all types who schedule private classes as a part of their focus on the rise of behavioral health issues," said Canon Anne M. Vickers, CFO of the Diocese of Southwest Florida. "Through this year's COVID pandemic, we have watched an explosion of needs for mental health support and resiliency among healthcare, education, government and faith-based organizations, and practically all workplaces in our community at large. The impact on individuals and families is palpable and continuing into the foreseeable future."
DaySpring is well-known in the diocese for its church and para-church programs, but its role as a home for regional training and education continues to grow. Its stated mission to be a "safe and sacred place in the heart of our community that exists to enrich and empower all people" aligns directly with this broad community initiative. In recent years DaySpring has served as host for similar trainings including disaster cleanup Team Rubicon Disaster Response, active shooter training for Manatee County and orientations for schools and regional leadership programs.  The unique natural setting is especially well suited for renewal retreats and programming designed to strengthen mental health and resiliency.
DaySpring has been a center for community arts programs for decades. When a local need arises, DaySpring Executive Director Carla Odell has been quick to promote DaySpring as a home; one summer,  DaySpring hosted a complete summer children's YMCA day camp program.
"Our longstanding relationships hosting over 500 community groups each year delivering programming for wellness, spiritual strength, addiction, renewal and recovery positions us as a center for wellness and resiliency," said Vickers.
Find upcoming training dates and community resources at https://dayspringfla.org/mentalhealth/.