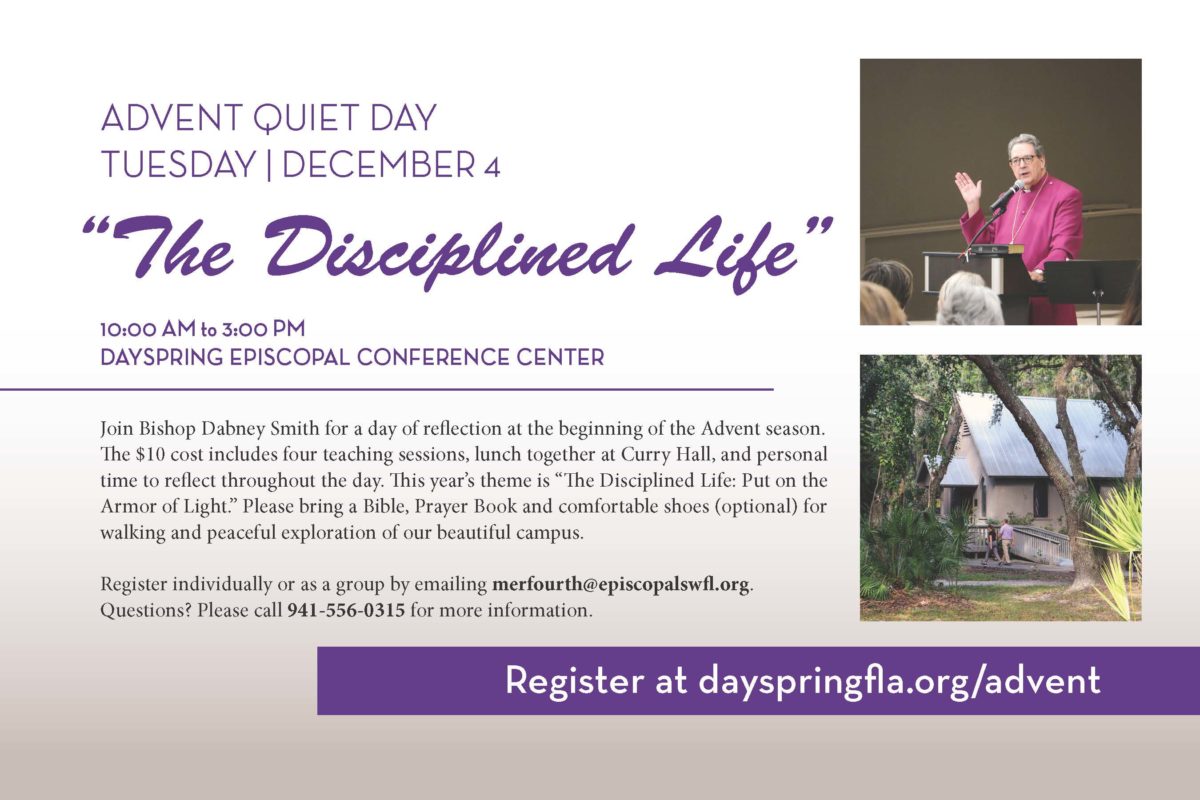 PARRISH – In the church year, Advent is the four-week season before Christmas. During Advent, visitors are invited to come to the 97-acre campus of DaySpring Episcopal Center for times of personal and corporate reflection.
In the Anglican tradition, Advent is a season of anticipation. The season of Advent in 2018 runs from Sunday, Dec. 2 to Monday, Dec. 24. It is a time when we prepare for the birth of Jesus, separate from the Christmas season.
Resources Available

For Advent, The Episcopal Church's new Journeying the Way of Love home and group study offers four sessions to be explored at home as we await the coming of Christ by moving through the first two chapters of the Gospel of Luke. Luke's gospel provides a pattern for understanding how we can live the Way of Love as individuals or groups, as families and friends, as a community, and out in the world.
A December Way of Love Advent Calendar has scripture readings for each day of the month.
Advent Events:
Dec. 4 Advent Quiet Day: Bishop Dabney Smith will hold an Advent Quiet Day on Tuesday, Dec. 4. The theme for 2018 is The Disciplined Life: Put on the Armor of Light. To register for the day's teaching, which includes a $10 lunch, email merfourth@episcopalswfl.org  or register HERE.
Dec. 5 Holy Eucharist & Lunch: Each month, clergy from across the Diocese of Southwest Florida come to DaySpring's St. Thomas Chapel to celebrate the Holy Eucharist at 11 a.m. The Rev. Jonathan Evans of St. Boniface Church, Siesta Key, Sarasota, will preach and celebrate. Lunch, for $10, follows. Bring your group, or come individually. To reserve lunch, email reservations@dayspringfla.org.
Advent Activities:
Pray at St. Thomas Chapel: Pilgrims may use historic St. Thomas Chapel for silent prayer and reflection during regular hours. Visitors often take walks between prayer and reading. In the chapel there are also copies of the Book of Common Prayer. The chapel is open daily from 9 to 5 p.m., or by request. Individuals should check in at the front desk to tell them you are on campus.
Walk the Labyrinth: Next to the chapel is the Episcopal Church Women Labyrinth. The labyrinth, inspired by the famous labyrinth at Chartres Cathedral, is not a maze; instead it is a circuitous route from the outside to the center of the design. Pligrims walk to the interior while praying or meditating.
Spend Quiet Time on Our Trails: DaySpring has nature trails that crisscross our 97-acre woodland campus. These trails are open during the day for group or individual walks. Our outdoor chapel is also available.
Come for a Meal: For many days in Advent, our dining room at Curry Hall is open to visitors, both groups and indviduals. Please call ahead.
Bring a Group: Call ahead to reservations to bring a group for quiet prayer and a meal. For group visits, please contact reservations at 941-776-1018.
There are four weekly Collects, or prayers, relating to each of the four weeks of Advent.
First Sunday of Advent
Almighty God, give us grace to cast away the works of
darkness, and put on the armor of light, now in the time of
this mortal life in which your Son Jesus Christ came to visit
us in great humility; that in the last day, when he shall come
again in his glorious majesty to judge both the living and the
dead, we may rise to the life immortal; through him who lives
and reigns with you and the Holy Spirit, one God, now and
for ever. Amen.
Second Sunday of Advent
Merciful God, who sent your messengers the prophets to
preach repentance and prepare the way for our salvation:
Give us grace to heed their warnings and forsake our sins,
that we may greet with joy the coming of Jesus Christ our
Redeemer; who lives and reigns with you and the Holy
Spirit, one God, now and for ever. Amen.
Third Sunday of Advent
Stir up your power, O Lord, and with great might come
among us; and, because we are sorely hindered by our sins,
let your bountiful grace and mercy speedily help and deliver
us; through Jesus Christ our Lord, to whom, with you and
the Holy Spirit, be honor and glory, now and for ever. Amen.
Fourth Sunday of Advent
Purify our conscience, Almighty God, by your daily visitation,
that your Son Jesus Christ, at his coming, may find in us a
mansion prepared for himself; who lives and reigns with you,
in the unity of the Holy Spirit, one God, now and for ever.
Amen.